wildlife & travel photography workshop to kagoshima, japan! (21 – 28 november 2018)

Photography Workshop Outline
Explore a part of Japan you have yet to discover, and accelerate your photography learning curve by learning first-hand from TWO instructors!
Join us on our exciting photography workshop to Kagoshima, a treasure trove of vast pristine nature, rich history, unique culture, and mouthwatering delicacies, hidden in the deep south of Japan. The workshop consists of a variety of nature, wildlife, landscapes and cityscapes photography.
We will also be travelling to the mystical moss-covered forest of Yakushima, the magical island that inspired Hayao Miyazaki's animated film "Princess Mononoke", and the first site in Japan to be inscribed as a UNESCO World Natural Heritage.

Instructors
Photography workshop instructors, Ling of C.S.Ling Photography and Weizhong from Truphotos were commissioned by the Kagoshima Prefectural Government in Japan on a travel photo assignment that took them on an incredible journey to many unique and beautiful locations.
They will be guiding you throughout the thinking and shooting processes at each location and ensuring that you obtain the best results by maximising the potential of your equipment. 
We look forward to bringing you the very best of Kagoshima in our exclusive photography workshop!
(Max 10 participants + 2 photo instructors + 1 local driver+guide)
Workshop Fee (Usual: SGD$5,900/pax)
1 single participant

: SGD$5,450
OR
1 participant with spouse:

SGD$9,950

(Shared 

accommodation

. Offer ends 16 Aug 2018!)
*BONUS: 2-hour pre-trip outdoor workshop in SG + 2-hour post-trip photo review*
Find out more information or proceed to register for the workshop by contacting us!
Photography Workshop Highlights
Migratory Cranes of Izumi
Feast your eyes on more than 10,000 cranes of four species gather on the coastal paddy field of the Izumi plain. This area has more species and 10 times more cranes than the popular (but tourist-filled) Hokkaido region!
We will bring you to the best spots to capture eye-level shots of the cranes on the ground and in the air. Hooded Cranes, White-naped Cranes and Common Cranes made up the majority of the population here. If we are lucky, we may spot the Sandhill cranes, Siberian cranes and Demoiselle cranes too.
And the best part? You will be the only few enjoying the 360° panoramic view of the cranes, with no other photographers jostling shoulder-to-shoulder for space.
Kirishima Shrine
Kirishima Shrine is arguably the most well-known spot for autumn leaves in Kagoshima. Capture splendid views of the symbolic flaming red Torii gate against a backdrop of Japanese maple leaves, the peaceful and serene gravel courtyard of the main temple, and 800-year-old ancient protected trees within the shrine grounds.

Sogi-no-Taki Waterfall
Nicknamed "Niagara of the East", this is a majestic waterfall that spans 210 metres with large volumes of water gushing down the cliff sides into the plunge pool below. We arise early for this location for the beautiful side lighting from the morning sun. We will discuss and explore the use of filters to capture the motion effects of water in daylight.
JR Kareigawa Station
One of the oldest, unmanned wooden train stations in Kyushu, the JR Kareigawa Station was built in 1903 and is still in operation today. Nostalgic scenes include the jet-black express train, affectionately named "Hayato-no-Kaze", entering and leaving the rustic station, reminiscent of scenes dating back to the mid-Meiji period (early 20th century).
Yakushima Island – UNESCO World Heritage Site
Shiratani Unsuikyo Ravine – This mythical moss forest, which inspired the animated film "Princess Mononoke", is filled with ancient Yakusugi cedar trees of more than a thousand years old. In a leisurely hike along the trail, you can find wildlife such as the Yakushika deer and Yakuzaru macaque, both which are endemic to this island. The estimated deer population on Yakushima in year 2014 was 19,000. To put this figure into perspective, the human population on the island is around 13,500!

We will also visit the Ohko-no-Taki waterfall, said to be the highest waterfall in Southern Kyushu at 88m. You can get as close as you feel comfortable to experience its grandeur.
Senganen
Senganen was built in 1658 as a villa to Shimadzu Mitsuhisa, the 19th Lord of the Shimadzu clan, which ruled over Kagoshima for more than 700 years. This beautifully-landscaped Japanese garden is set within the grandeur of Mt. Sakurajima and Kinko Bay as its backdrop, offering many picturesque spots for landscape photography.
Sakurajima Sunrise
We will head out before sunrise on this day to capture the most iconic landmark of Kagoshima, the active volcano Mount Sakurajima, with the downtown city lights during the blue hour at dawn. Witness the entire city scene before it comes to life as the sun ascends from behind Mount Sakurajima.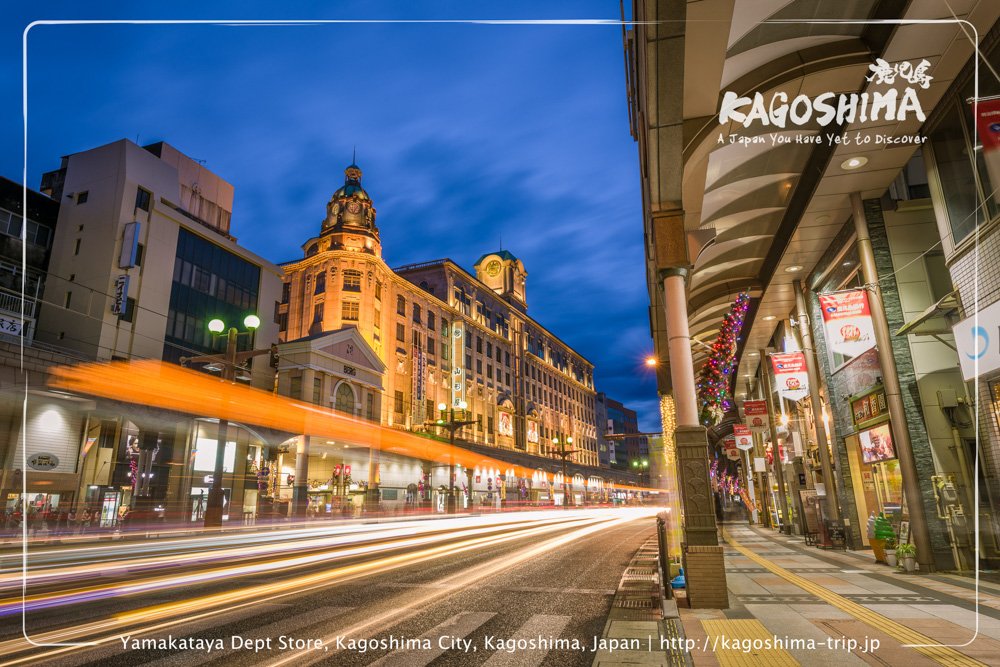 Tenmonkan
Head back to Kagoshima city, as we prepare for our evening shoot at Tenmonkan, the bustling downtown. The blue hour is considered one of the most magical moments that takes place in a day. The magical blue hour of the main city area, coupled with car light trails using long exposure techniques makes for a more dramatic effect.
- Two photography instructors and a local driver guide
- Seven nights accommodation at various middle to high class hotels and Ryokans (Japanese inns)
- Accommodation with attached bathroom
- Transportation to photo-shoot locations
- Entrance fees for sightseeing / places of interest
- Group insurance covering a maximum of S$10,000 for accidental death and disability, and S$500 accident medical reimbursement for group travelling together to the same destination for the same number of days on the same mode of transport.
- International & domestic flight / shinkansen / all transportation costs to Kagoshima to attend the workshop
- Travel insurance, visas, tips for guides
- Food and accommodation on the last night of the trip (workshop ends in the afternoon on 28th Nov)
*Participants will be responsible for booking and purchasing their own flight tickets and travel insurance*
Frequently Asked Questions
We require a 50% deposit to book your participation. The remaining balance is due 8 weeks before your workshop start date. In the event the expedition is unable to depart due to minimum numbers, a full refund will be returned to the customer.
Is there a pre-departure briefing?
Our pre-departure briefing is held 3-4 week prior to departure. Get to meet the other participants and we will answer any questions you may have. All confirmed participants will also receive a pdf containing essential reading about the workshop, packing list and more.
For those who can't attend the briefing in Singapore, feel free to email or skype us with any questions.
What are the photography equipments required for this workshop?
As we will be covering both wildlife, landscape photography and everything in-between, you will need a telephoto lens (such as 300mm or 80-400mm), wide-angle lens (such as 12-24mm or 24-70mm) and a tripod. Filters such as Neutral Density (ND) filter and circular polariser (CPL) are recommended.
Do also bring protective covers for your camera gears / bags in case of wet weather.
Why are flight fares excluded?
Our workshops are marketed globally and we expect photographers from various countries/cities joining each workshop. As such, we do not include flight fare in the workshop price.
Both international and domestic flight schedule and price range will be made known to participants for the convenience and liberty of booking your preferred flight.
Have more questions? Or ready to join in the amazing adventure?
Download quick and effective tips to improving your travel photography NOW!
Have a good dslr camera but frustrated about not being able to achieve what you envisioned? Get our FREE effective tips to improving your travel photography right now!