Renowned Kagoshima singers Hajime Chitose and Atari Kousuke held their first ever concert in Singapore recently. I had the opportunity to cover their exclusive performances at Zepp@BigBox and it was nothing short of an amazing experience to say the least.
"Ochugen" collaboration unit
Hailing from the Amami Oshima islands in Kagoshima, Japan, and both singing in the unique Shima-uta style of folk music, Hajime Chitose and Atari Kousuke have been holding concerts as a collaboration unit.
In fact, the duo has a nickname "Ochugen" (お中元), which is a play on each of their surnames, Atari (中) and Hajime (元), forming a Japanese word "Ochugen".
This expression refers to the gift-giving period in July where Japanese people send gifts to people they are indebted to, and it was aptly used as this concert took place in July too!
An evening of soothing and entrancing vocals
The concert started with a duet performance, after which both singers also had solo performances. Of course, the concert wouldn't be complete without them singing their hit songs.
For Atari Kousuke, said to have the world's most soothing voice, his arguably most popular song is his third single Hana. Enjoying increasing popularity in Japan and Asian countries such as Taiwan and China, Atari Kousuke also sang a Chinese song, "Invisible Wings" (隐形的翅膀) originally by Angela Zhang, much to the delight of the local fans.
Songs by Hajime Chitose included her first major label single, Wadatsumi No Ki (ワダツミの木), which topped the singles chart, and Kataritsugu Koto (語り継ぐこと), her first release after returning to the music industry in 2005.
Widely known as a singer with a very unique singing style, her entrancing stage presence mesmerised all who turned up to watch her performance. Her singing has been reported in studies to have actual relaxation effects on the human mind, and after listening to her live in person, I am sure her fans couldn't agree more.
The concert ended on a high note with duet performances by the two artistes during the encore.
Kagoshima, land of unique experiences
On a side note, if you have not heard about the beautiful Amami Oshima islands, or have yet to be enthralled by the beauty and rich culture Kagoshima prefecture offers, I highly recommend including them into your itinerary on your next Japan trip! You will be sure that many unique experiences await you, and it will be a side of Japan you have yet to discover.
Venue | Zepp@BigBox
Organiser | Sozo
Media Partner | Bandwagon
TV Partner | GEM TV Asia
Part of Japan Music Festival
Supported by Office Augusta, Office Walker, Explore Kagoshima
Photography | Truphotos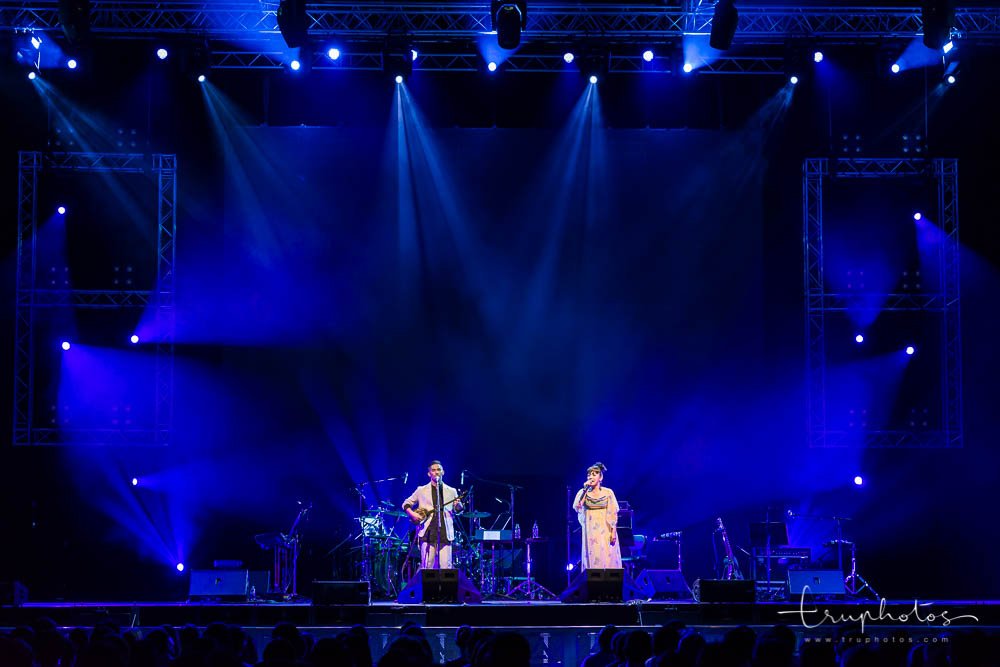 Opening duet song by Hajime Chitose and Atari Kousuke at their concert at Zepp@BigBox, Singapore.
Atari Kousuke begins his solo performance after the duet with Hajime Chitose.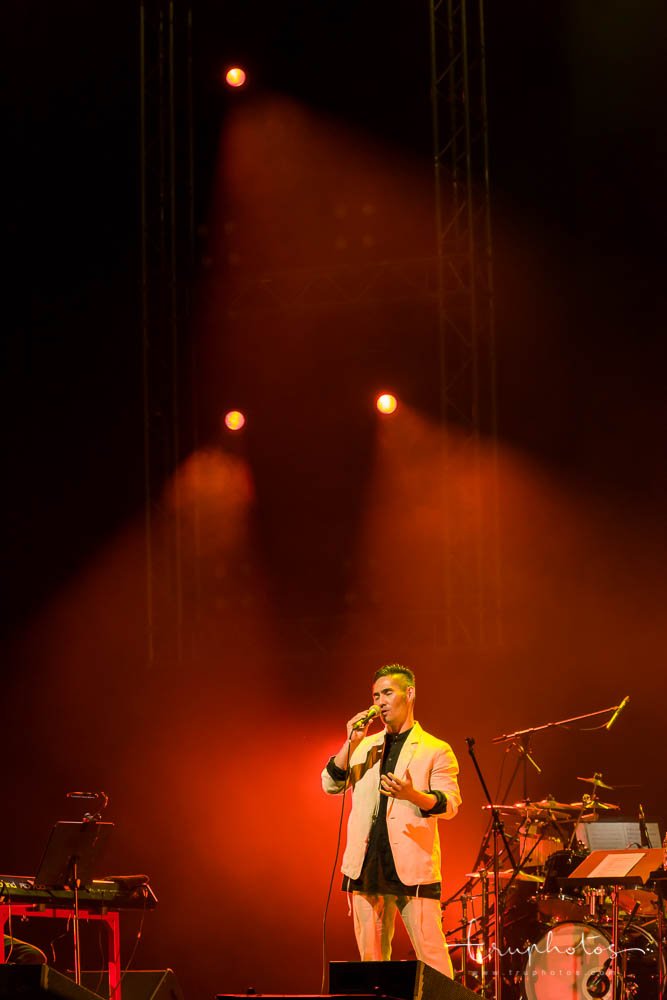 Demonstrating his outstanding Chinese language ability with a popular Chinese song 隐形的翅膀 (Invisible Wings) originally by Angela Zhang. 
Atari Kousuke belting out arguably his most popular song and third single, Hana.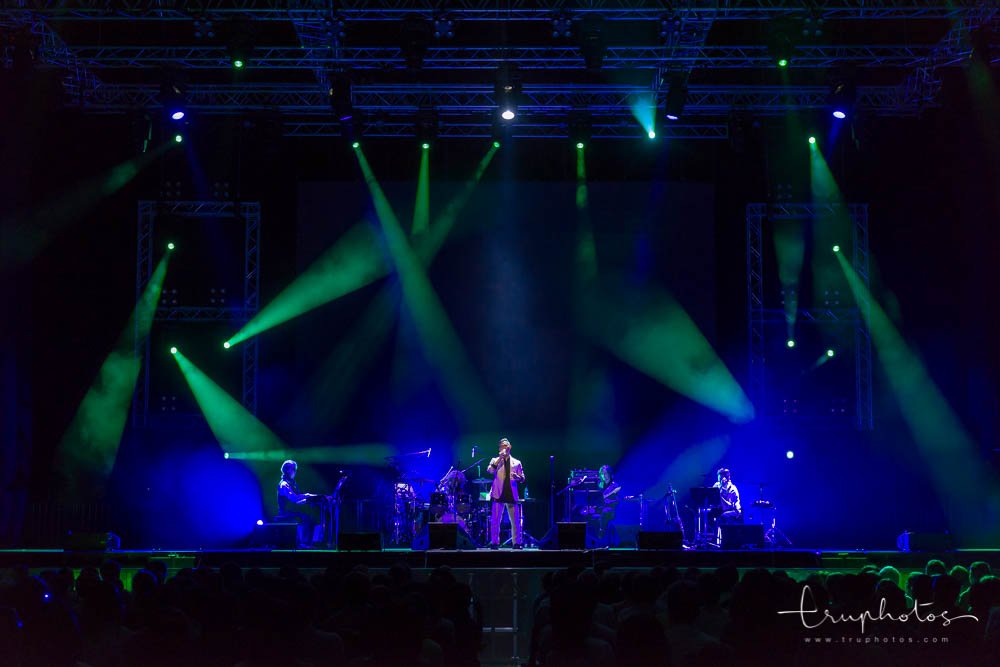 Atari Kousuke mesmrizing the crowd with his ultra soothing and gentle voice at Zepp@BigBox. 
Hajime Chitose's solo performance started after the intermission with her first major label songs, Wadatsumi No Ki. This song was also the third best selling single of 2002. 
Born and raised in Amami Oshima, Kagoshima, Hajime Chitose formed a collaboration with Atari Kousuke representing the Shima-uta genre of folk music. 
Crowd at Zepp@BigBox enjoying the performance by the two singers from Amami Oshima, Kagoshima. 
Hailing from the Amami Oshima islands in Kagoshima, Hajime Chitose has a distinctive singting style characterised by unique falsetto effects.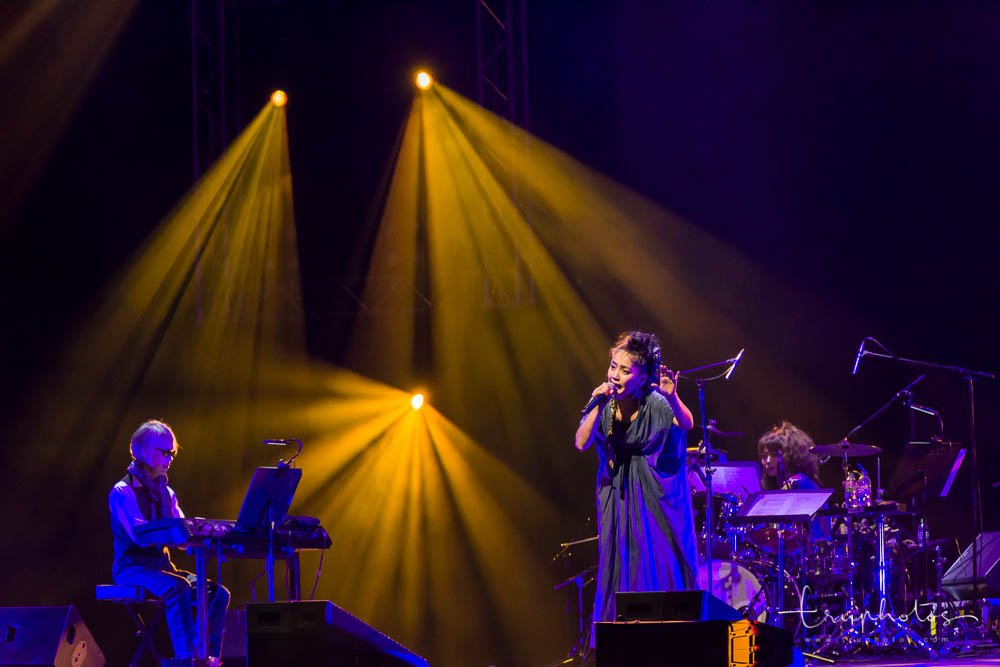 Hajime Chitose with another of her hits, Kataritsugu Koto, This song was her first after returning to the music industry in 2005, and was also the ending theme for a Japanese animation.
Ending their successful concert in Singapore on a high note with duet performances for the encore.